Summer is in full swing around here and with that comes all kinds of pests and bugs. While I understand that bugs are inevitable on the homestead I don't care from them to be in my home… especially in my kitchen! Luckily I have a solution… a homemade ant killer mix that actually works to get rid of the problem for good.
Keeping toxins out of my home is high priority around here.
Back almost 5 years ago, when my middle daughter suffered from extreme eczema, I made a commitment to eliminate toxins from our home.
I started replacing all cleaning products, our food choices, beauty products, and any household products. This included things like ant killer spray.
Once I started replacing these items with better choices, I started seeing the benefits in all our skin, our health, and our immune systems. I was hooked and knew that finding healthy nontoxic products for our home was the way to go!
I started using essential oils in our every day life and making my own cleaning products, like this Natural Mop Cleaner that Works and this Safe and Easy Shower Cleaner.
Now fast forward to last month here on the homestead.
Slowly but surely ants started appearing in my kitchen and pantry a month ago and I knew I had a problem.
Until one morning I had enough! As I was pouring out an entire bottle of pure maple syrup that was infested with ants from my pantry, I knew I needed to find a solution to these ants and I needed to find it quick.
But one thing was for sure….whatever I used to get rid of these ants had to be safe AND effective. Going to the store and buying a bottle of ant killer spray from the shelves was just not an option.
Finding a homemade ant killer mix that actually works.
I did what anyone would do when looking for a solution to a problem… I turned to google.
In the search bar I typed in best homemade ant killer mix and I stumbled across this recipe I am about to share.
I looked at the ingredients that were simple and safe… that's a win! However based on previous recipes I had tried, I was a little reluctant it was going to work.
So I turned to the comments section.
I had tried safe recipes before, that claimed to actually work, but then they ended up either not working at all or only a little bit. I didn't want to make that same mistake again.
So, I made to sure to read all the comments on this blog post.
As I was sifting through the comments I started getting excited. All of the comments had great things to say and there wasn't one comment that mentioned it didn't work. I was thrilled and thought "I finally found a good one!"
As I was nearing the end of the comments, I came across one that definitely was the most useful. This reader said, "the solution didn't work until around 36 hours, so be patient".
Aha! With that helpful bit of information, I knew I was ready to give it a try.
Mixing up the ant killer mix.
Disclosure: My posts contain affiliate links. As an Amazon Associate I earn from qualifying purchases. You won't pay a penny more, but I will receive a small commission.
There are only 3 simple ingredients in this recipe.
That is it! You probably have everything you need right at home with the exception of the borax. I bought mine at my local Walmart in the laundry detergent section. But Amazon is an easy way to get it right to your door if you don't have a Walmart or Target close to you.
Check out how I mix up and use this ant killer mix.
How to mix up this homemade ant killer mix
It's amazing that something so easy can be this effective!
Add 1 cup of sugar, 1/2 cup water, and 1 TBSP of borax to a mason jar. Stir it up so everything is evenly mixed. It is not necessary for the sugar to be dissolved so cool water is fine.
Make a tin foil boat so that your mixture doesn't get everywhere. I do this by taking a small piece of foil and folding up all four sides so you have a little boat. This mix is very watery so a tin foil boat makes for easy clean up!
Pour about 2-3TBSP of mixture in the boat and place where you see ants. It is very important to place the boat with the mixture in an area where the ants are seen. Leave the boat there for 24-26 hours or until you see no more ants anywhere. That's it!
Here's the trick…
The trick to this working is that the mixture has to left alone where the ants are, until you see no more ants at all. It's going to get worse before it gets better!
As the ants are flooding into your house to eat out of this dish you may be thinking, " what am I even doing? I'm just feeding all these ants!" But that's exactly what you are doing and why it is so effective.
This ant killer mix actually works because the ants take the mixture back to the nest and it kills off the entire nest. Not just the ants that you can see in front of you.
But in order for that to happen, you have to give it time and be patient, which is not my strong suit. This can take anywhere from 24-36 hours. Maybe even longer depending on how big the ant nest is.
I know living on a farm you are bound to have pests… but I prefer to not live with those pests inside my home. Especially if I can get rid of them safely and effectively!
Did you try it?
Make sure to leave a comment below if you tried this ant killer recipe. Let us know how long it took to work!
Homemade Chicken Taquitos:
Pin it for Later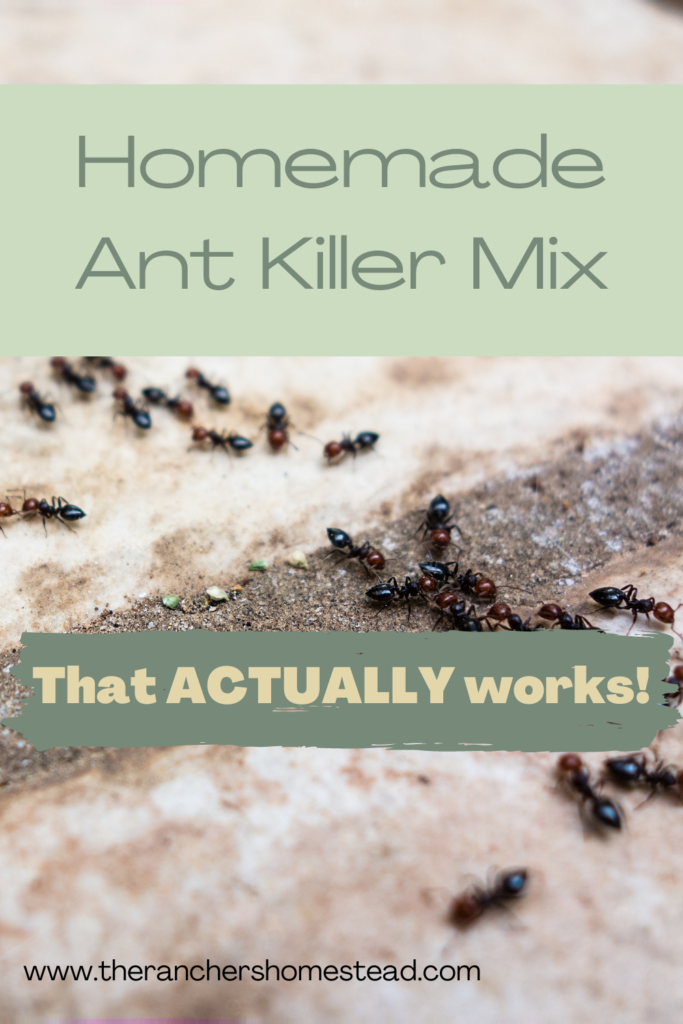 Make sure to follow us on Instagram for everyday farm/ranch life!