You've done everything your supposed to do. You've taken all the preventative measures, but it happens…..Someone, or worse EVERYONE, in your family gets the cold that has been going around! Here are 4 ways to use essential oils for a cold.
Your best line of defense is to be preventative. When you start thinking about your deep immune system and how to boost it, you have a better chance of not getting a cold or flu all together. The best way we prevent sickness in our house is by taking elderberry syrup every day and by cooking with immune boosting chicken bone broth.
But sometimes, it is just inevitable. You do all the right things to prevent it but your body still comes down with something. It happens to all of us, so it's important that we are prepared during cold and flu season to help our bodies when it does! The way I prepare is with some natural remedies of my favorite essential oils.
I am going to share with you today 4 ways I use doTERRA essential oils to help with the symptoms of a common cold. They are super effective and the best part is you know that what you're putting onto your body is safe!
Always remember, essential oils are very powerful so a little bit goes a long ways! You only need a couple drops of essential oil to do the trick! These 4 tricks will helps with the most common cold symptoms.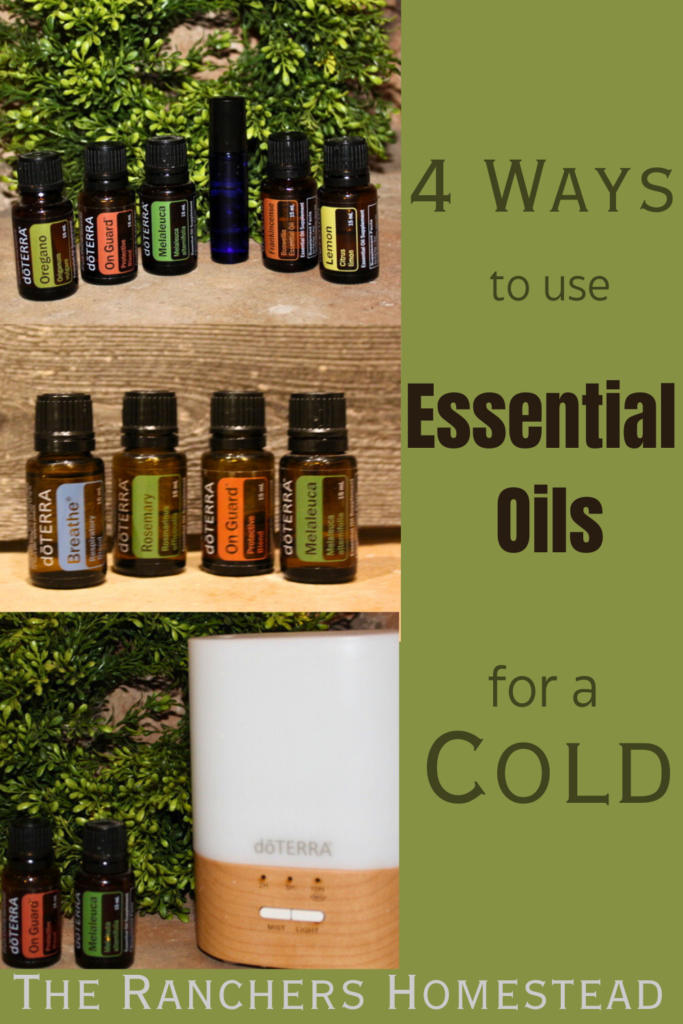 Disclaimer: This post contains affiliate links. As an Amazon Associate I may earn a small commission on qualified purchases at no additional cost to you.
1. Use BREATHE on your chest, bottom of your feet, or diffuse.
Breathe is my best friend during a cold. It is an essential oil blend that doTERRA makes and it is specific to congestion and clearing your airways. This blend is made up of peppermint oil, laurel leaf, eucalyptus oil, tea tree oil, lemon oil, cardamom, ravintsara, and ravensara.
I will rub it directly on our chests to help clear sinuses and to help with congestion.
Breathe will leave a vicks vapor rub sensation, so if you are sensitive to this make sure to apply it with a carrier oil, such as sweet almond oil or fractionated coconut oil. To do this, I just put a little bit of the carrier oil in the palm of my hand and add a couple drops of Breathe to it, then simply apply it on our chest.
Another way is to apply it directly to the bottom of feet, for a cough. I notice when I apply breathe to the bottom of the feet, their cough slows down and everyone is able to sleep better. If someone is really having a problem sleeping because of coughing I will also apply Lavender essential oil to the bottom of their feet with the Breathe.
People with respiratory problems have seen great success using breathe.
If putting it on your body irritate your skin, try diffusing it while you sleep.
2. Make a Rosemary Sinus Bomb
The other week my husband had a horrible sinus infection. The pressure in his sinuses were killing him.
These rosemary oil sinus bombs are what helped tremendously!
A couple times before bed, in 15 minute increments, I would fill a coffee cup with steaming hot water and 3-5 drops of rosemary essential oil into it. He would just sit and sniff the steam. For a more powerful punch you can put a towel over your head and the cup for the best steam inhalation.
Instantly he felt the relief of pressure in his sinuses. He also did this a couple times before heading outside in the morning to feed.
If I recall correctly his response to the first one he did was, "These are the bomb!"…. how ironic, since I call them sinus bombs!
Please note that these will not cure a sinus infection, but they do help to give relief when you have sinus congestion or lots of pressure in your sinuses. If you can break up a stuffy nose, everyone just gets a better night sleep.
3. Use a Cold Fighter Roller Ball
When it comes to essential oils, it is more effective when you are proactive rather then reactive. Or at the very least, start using them at the first symptom.
I use this cold fighter roller ball at the first symptoms of colds. I always have it on hand and ready to roll. It is slightly different then my immune boost roller ball and I make sure to apply it multiple times a day to the sick person in the house! I will apply it to their lymph nodes, back of neck, and down their spine.
I buy these roller ball containers on Amazon and fill one with the below recipe.
7 drops Oregano
15 drops Lemon
10 drops Tea Tree
10 drops OnGuard
7 drops Frankincense
Fill the remainder of the roller ball with a carrier oil (I use sweet almond oil)
4. Diffuse an oil blend in my diffuser.
The last thing I do when we have a cold is diffuse a couple drops of OnGuard and Tea Tree essential oil in my essential oil diffuser. This puts the added benefits of OnGuard in the air so it can give our immune systems what it needs to fight the sickness and the Tea Tree oil is an antibacterial, so it purifies the air!
Doing this helps keep our air clean and the hope is that whoever has the cold doesn't share it with the rest of the family!
To help prevent the rest of the household catching the cold, I will also put some water in a spray bottle and add a few drops of Tea Tree oil to the bottle. Go around and spray/wipe all door knobs and light switches in the house to disinfect them.
Tea Tree has anti-fungal, antiviral, and antibacterial properties, among other things, so it is great for disinfecting naturally.
For the kiddo that isn't sick, this is a great job for them to do!
Why Use Essential Oils?
Essential oils are pure, natural, and super effective when you have a good quality oil. It is important to know your source and to understand that not all essential oils are created equal in potency and purity. For best results find pure essential oils.
DoTERRA is free of contaminants, pesticides, or chemical residues, so I know what I am putting on my family is a good safe oil. When your body is already fighting off an unwanted sickness it is important to help it fight with safe ingredients!
If you are currently not using essential oils and want to learn more about them or how to get them, I'd love to help you. With doTERRA you can purchase all your essential oils at wholesale cost, so you are getting a good quality oil for a great price!
Some oils I listed above are blends specific to doTERRA, however if you use another brand you can likely find blends that are similar. I have listed below some comparable blends with other common brands.
Young Living:
OnGuard is comparable to Thieves.
Breathe is comparable to R.C. or Raven
Rocky Mountain Oils:
OnGuard is comparable to Immune Strength
Breathe is comparable to Breathe Ease
NOW Essential Oils:
OnGuard is comparable to Natures Shield
Breathe is comparable to Clear the Air
One Final Bonus tip:
​I love bonus tips!
Take a hot shower and drop a couple drops of Eucalyptus essential oil, Peppermint oil, or Rosemary oil in the bottom of your shower. Let the steam build up in the shower and breathe in all that goodness. This will help to clear that pesky nasal congestion and clear your airways.
Safety First!
Always make sure with essential oil use, you are being careful. Some people have a harder time with the essential oils for topical use. If you have a skin irritation after using essential oils, make sure to stop using them and use the methods of diffusing or breathing in the steam instead.
For hot oils or oils applied to children, always use a carrier oil, such as jojoba oil, sweet almond oil, or fractionated coconut oil, to avoid any kind of skin irritation or adverse reaction. The safest way is to do a patch test on your skin in a small area to make sure you don't have a reaction, before regularly applying oils.
All oils listed above are for external use only. And as always, make sure to keep essential oils out of reach of children at all time.
If you experience any serious side effects, make sure to contact your health care provider immediately.
My prayer is that sickness never enters your house because you're using the preventive measures we've already talked about, but if someone in your family does come down with a funk, these 4 ways we use our essential oils will help relieve those yucky symptoms!
Stay well everyone!