Disclosure: My posts may contain affiliate links. You won't pay a penny more, but I will receive a small commission. As an Amazon Associate I earn from qualifying purchases.
Here we are again… we know this time of year all too well. The heart of winter. The heart of cold and flu season. The heart of every mother just counting down the days until Spring is here and we have survived another winter and we can get past the scare of our kiddos getting sick. Sometimes there is just no way around the germs and gunk that come into our homes but there are some ways we can try and prepare our bodies to fight against it when and if they do make it in! During this cold and flu season my family has stayed quite healthy. We have not gotten the stomach flu and only 1 cold which didn't even hit every person in the family. Score! We are not out of the woods yet, so I am staying diligent in my work of our 2 essential tricks in building our deep immune system.
There are a number of things we do on a daily basis to keep our immune systems working well and fighting off any germs that may enter into our little homestead. Washing hands, wiping down light switches, and applying On Guard and Frankincense every day are just a few of our daily routines to try and combat the common germs that float around! But today I am going to talk about one trick we use all year long that helps build our deep immune system. Germs will come so it is so important for our bodies to be ready to fight!
Making homemade chicken bone broth with a special ingredient to boost your immune system is one way my family builds our immune systems. It is so easy and really you don't even have to think about it!
All you need is the carcass from a whole chicken, kitchen vegetable scrapes (such as onions, garlic, celery, carrots etc.) water, some salt and spices (if desired) and the special ingredient that will help boost your deep immune system, astragalus root.
I buy my astragalus root on amazon in bulk and it lasts FOREVER. I am still on the same bag that I bought a years ago because you don't need a ton for 1 batch of bone broth.
Here is how you do it:
When you know you are going to make a whole chicken for dinner, start collecting all your kitchen scrapes in a Ziploc bag in the days prior to making the chicken. You can also get in the habit of collecting your kitchen scrapes always and just sticking them in the freezer for when you are ready to use them!
What I mean is, when you cut up an onion save the ends, yes skin and all, in a Ziploc bag. Same with celery, carrots, cloves of garlic, and even peppers! I don't always add peppers, but it does give a nice flavor.
As my week is going, I will simply just keep adding the ends of any vegetables I have been using and store it in the fridge. The skins of the onions and cloves of garlic give the broth nice color so make sure to keep this simple and just throw it all into the bag, no need to peel it!
After you have prepared, cooked, and then you and your family have devoured the wonderful roast chicken for supper, you are ready to make your bone broth!
Once the chicken has cooled enough to touch try and get off as much of the meat as possible. Then I usually just stick the whole chicken carcass into my bag of vegetable scrapes, that I have been collecting all week long.
**Tip** I usually stuff my whole chicken with a whole garlic cut in half and two halves of a lemon. I save both the lemon and garlic that have cooked with the chicken into the bag to go into the broth as well!
You can start it that night, but I usually wait until the next morning, so I put the bag back in the fridge until the next morning when I am ready.
Again, this is so simple and there is not really any way to mess up so it's just your preference. I just like starting mine in the morning because then I know it can run from one morning all the way until the next morning and the time works perfectly for me to be able to jar it when done.
When I'm ready to start it, I simply dump everything from my bag into my crockpot. Add about 3-5 astragalus roots, 1 TBSP salt, any herbs to taste (I usually add parsley, thyme, rosemary, and turmeric) and fill the crockpot with water. Turn my crockpot onto low and BAM you are done! Let that baby cook on low in your crockpot for 24 hours and you will have the best, most delicious chicken bone broth ever. Plus, it is incredibly healthy for you!
This can also be done on your stovetop in a large pot, at a simmer.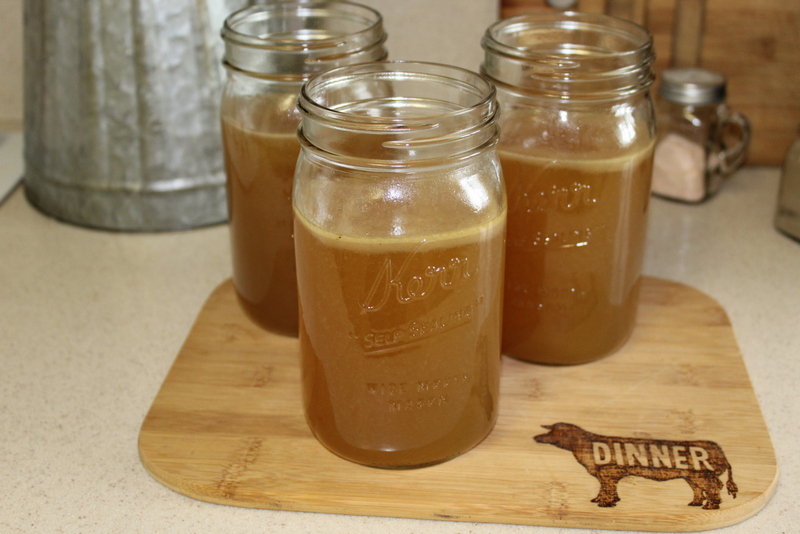 After your 24 hour mark I use a strainer spoon to scoop everything out and discard. Now you are left with a wonderful broth ready to be put into jars.
I do not own a pressure canner at this time (it's on my Amazon wish list so hopefully for my birthday!) so I fill my quart jars, making sure to leave plenty of head space at the top for expanding, and freeze them.
*UPDATE* I do now own a pressure canner, so I can all of my broths. This makes it much easier to use in recipes because you don't have to thaw it out.
Now you are ready to use this broth in any recipe just as you would a normal can of chicken broth. In fact, I have not bought a can of chicken or beef broth from the store in years. Below is just some of the dinner ideas that I have used the bone broth in, in place of chicken broth.
Chicken pot pie
Chicken noodle soup
Cook white or brown rice in it, in place of water
Any soup that calls for chicken broth
Gravy
Rice A Roni
Now the best part about this is you can even make beef bone broth doing the exact same thing! We butcher a whole steer at a time, here on the homestead. So, I always have these lovely spare ribs that nobody likes or will eat.
I hate waste and don't like to butcher another steer until we have eaten every part of the one we have so I started cooking these spare ribs and either cutting up the meet to throw into a stew or I will even let the dog have a nice healthy beef dinner one night! I'll save the bones from my spare ribs and you now are ready to make beef bone broth using the same method as with the chicken just substituting the chicken bone carcass with the beef bones. This beef bone broth is wonderful in stews, beef soups, and even when cooking beef roasts!
The possibilities are endless on what you can do with bone broth but you can be sure you will have a healthy substitute for chicken and beef broth that is sure to start building your deep immune system and keep you healthy all winter long!