As we are approaching the last couple weeks of Summer, my thoughts are starting to turn to our upcoming school year. This week I went through all our homeschool curriculum for 2022/2023 and got our baskets ready!
While we still have a couple weeks left, this is a good time to get organized and start getting excited for the new school year!
Thinking about your homeschool schedule and curriculum is important for a successful school year. Make sure to check out a day in the life of our homeschool to get ideas of how your day may look.
Always remember no two homeschool families look the same, and doing what works for your family is key. Have homeschool questions? Check out where I answer some of the most commonly asked homeschool questions, I may have answered your question already!
What homeschool curriculum we are using this school year.
We are not making any changes this school year in Language Arts and Math. We are faithful users of The Good and The Beautiful for both subjects.
It seems every time we try and change it up, I always go back to it.
Why we like The Good and The Beautiful curriculum so much.
1. It's a pick up and go curriculum.
This is a HUGE reason we love this curriculum so much. Living on a busy ranch and homestead there is a lot of moving parts and work to be done. Our schedules need to be flexible and our curriculum needs to be simple. Everything is written out for you to follow and there is zero prep work for the parent. This is a big win for me!
2. Each lesson is complete, packed with information, and short.
Every time I go away from The Good and The Beautiful in both Language Arts and Math I always come back. That's because I have not been able to find another curriculum that is so complete while keeping the lessons short and sweet.
We dedicate a few hours in the morning for our "book work" during the school year. This is where we get all our lessons done. The rest of our days are spent getting real life experiences. This means that in those short few hours, I want them packed with good information but no daunting with book work.
The Good and The Beautiful has accomplished just that! I have tried many others and nothing compares in these two subjects.
3. It works towards student independent work
Being mom, wife, ranch hand, AND teacher is a big responsibility. Especially when you have multiple children. Working towards your children being able to take responsibility for their education and be independent is so vital and important.
The Good and The Beautiful does just this. The lower levels are very parent led, but you will find as you move along to higher levels it is more student led and independent. Of course you will always need to check your child's work, however they should be able to go grab their books and start working independently as they get older.
For history we are changing it up!
This year I bought The Good and The Beautiful's new government unit that came out at the end of last year. It is family style and we plan to use it the second half of our school year.
However, I recently was the winner of a really fun giveaway on Instagram! I won The American Girl History, by Little School of Smiths. We are so excited to start our year off learning about the different time periods in history of four of the American Girls.
This curriculum breaks down the time period that the American Girl lived in, with living books to read about events in history that happened then, including hands on activities to go along with it. My girls are excited to do art projects, sewing projects, cooking projects and more for history.
This post contains affiliate links. As an Amazon Associate I earn a commission from qualifying purchases, at no extra cost to you.
Every year at the beginning of the school year I try and buy something special to kick it off! Over the course of the years I have bought personalized pencils, pencil cases, crayons, and color pencils. This year I bought the girls sketch books with water color paints to use during our American Girl curriculum.
It will be so fun to watch them create in their sketchbook with each lesson. At the end of the school year, we should have a whole sketchbook of what we have learned!
For Science we are keeping with The Good and The Beautiful
One of the reasons we like The Good and The Beautiful science curriculum is it's family style. That means we all sit down together and learn the same topic but each child will do more or less work depending on their age/level.
This year we are going to start off the school year with The Good and The Beautiful Geology unit. We will learn about rocks, minerals, volcanoes, landforms and more! The way this will work is my 6th grader may go more in depth with writing on a specific topic, while my 3rd grader may answer a few questions about the topic.
They both will get to do all the fun activities and experiments that go along with the unit.
I have tried multiple times to buy each of my girls grade specific science and history and it never works for us. I always go back to family style and The Good and The Beautiful has the best, in my opinion.
How we organize our curriculum.
There are many ways to store and organize your curriculum. For us the best method we have found is the basket method.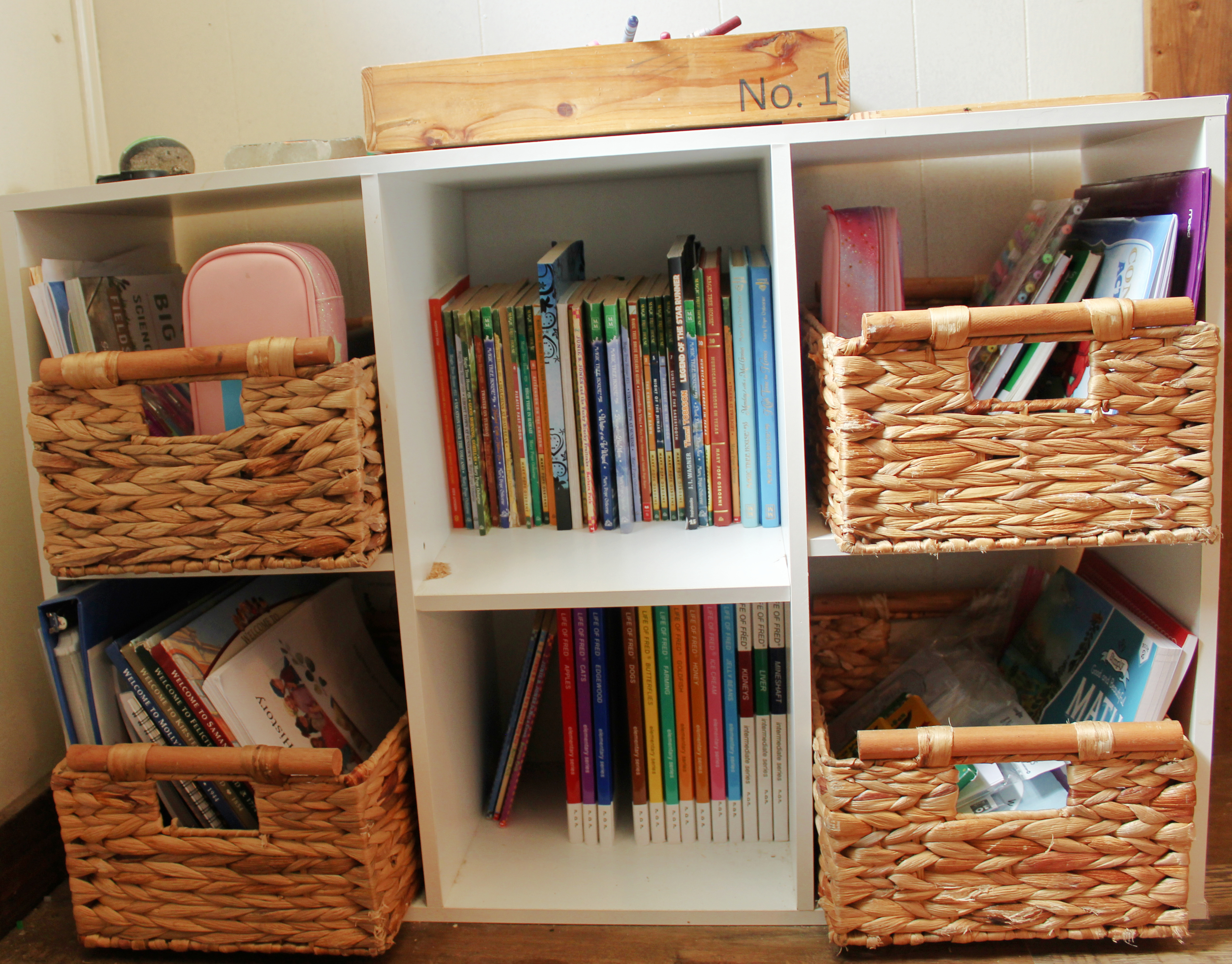 Each child has their own basket that fits in a cubby in our school room. I have one too! In their basket is all their curriculum books, pencil case with their supplies, their sketch book and water colors, and any supplies they may need to do their work. For example my 6th grader has a protractor in her basket for math and my 3rd and 1st grader has their math activity boxes in theirs.
While some of my girls prefer to stay in the school room to do their work, my oldest prefers to go somewhere else. She simply grabs her basket and carries it wherever she chooses to do her work that morning. Sometimes it's her bed, the couch, or even outside. But she has everything she needs right there in her basket.
This method also works well because if we are working on something for multiple days, the girls know to stick it in their basket so it doesn't get lost. This keeps everything exactly where it needs to be.
In my basket I keep all the answer keys and the family style curriculum. So science and history is in my basket, I simply grab it when we sit down to do those subjects.
Come see what curriculum we are using this school year!
Every homeschool looks different. There is no one way fits all. I am a firm believer that a successful homeschool is what works for your specific families needs, goals, and beliefs.
While I share our homeschool curriculum to be helpful, I don't believe that this is the only curriculum to use. Please use what works for your family and use this as a guide and review to some options out there.
What homeschool curriculum are you using this year? I always love learning about other curriculum!